About us
General information
ORION brand was founded at the beginning of the ХХ century in Hungary. The factory of the same name was opened there in 1913(at present this factory is a part of a worldwide famous concern THAKRAL – see also www.thakral.com). This factory specialized on manufacturing radios and other electronic devices. The progress in television broadcasting enabled industry to develop television receivers. In the middle of the 50's Hungarian ORION factory produced the wide model range of black-and-white television sets. In the 70's, due to persistent work and drive for results of company workers, ORION brand occupied one of the leading positions among the European producers of color television sets and radio electronics.

At present, concern ORION Electronics Ltd. has its own production capacities and research centers. It also has partnership relations with the largest factories in South Korea, China, Turkey, Taiwan, Japan, Malaysia, Ukraine and Russia. The number of workers of concern in representative offices, located all over the world, and at the factories exceeds 10.000 people. Company objective is to produce the whole range of electronic devices that people use in everyday life. Company name in a precise manner expresses stated objective – constellation ORION is the symbol of the best star products that are called to make comfort in the houses of our consumers.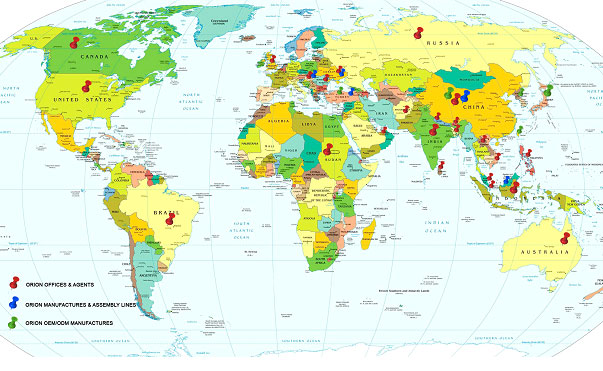 ORION Ukraine Ltd company office is an official representative of ORION trade mark in Eastern Europe. The staff of ORION Ukraine Company consists of highly skilled specialists and forms R&D department, information-analytical department and marketing research department. Our specialists have responsible attitude towards our business and constantly work on the improvement of ORION products and consumer services. You can always be sure of professional and timely consultation and service support. Regional representative offices are situated in the largest cities of Ukraine. Acknowledgment and gratitude of our consumers is the best reward for our company.


History
History of radio begins with the discovery of the first radio receiver in the world – 1895.
ORION brand history begins with the first radio receiver that was manufactured at the factory – 1913.


1913 – the foundation of ORION factory in Budapest (Hungary).

1920 – the beginning of serial production of radio receivers .

1950 – the beginning of mass production of black-and-white television sets.

The first color television broadcasting took place in January 1960 in Leningrad. At that time ORION factory engineers made a few pre-production models of color television receivers. The specialists of the factory began to prepare capacities to launch serial production of high-quality color television sets.

1970 - a period of change for ORION Electronics Ltd. It was time of mass export of black-and-white and color television sets to the USSR, Europe, Asia, South America and Middle East. The products of ORION Hungarian factory occupied leading positions in many countries of the world due to quality and use reliability.

At the end of 1980 to optimize and increase production efficiency company management accepted merger offer from world-known concern THAKRAL Brothers, which is the owner of the large production capacities in Asia. Since that the company has been taken over and managed by THAKRAL Group. The concern THAKRAL Brothers also became partially responsible for promotion of ORION brand, development and introduction of new products.

1990 – the opening of marketing representative office of ORION trade mark in Ukraine. On the basis of international practice Ukrainian specialists were taught the right conducting of business – caring approach to the national consumer.

1997 – the merger of ORION Electronics Ltd and world-known concern THAKRAL Brothers.

2000 – the foundation of Ukrainian marketing company ORION Ukraine Ltd.

2009 – at present ORION Ukraine Ltd occupies strong positions in the international business and Ukrainian market of household appliances and electronics. The company gained success due to competent management, high qualified personnel, regular improvement of technologies and quality of products, competent trading policy. ORION product line includes more than 300 models of various appliances for housekeeping and personal care represented in 7 categories. All products meet world standards in reliability, safety and functionality. ORION products are available in 200 cities of Ukraine.


Products
- In 1950 product range included television sets, radio receivers and radio equipment for telephone exchanges.

- Today ORION company is glad to offer you more than 300 models of various appliances for housekeeping and personal care represented in 7 categories. All products satisfy all requirements and needs of our customers. ORION offers consumer high-tech, multifunctional products, the variety of which is increasing, new product groups gradually appear on the market: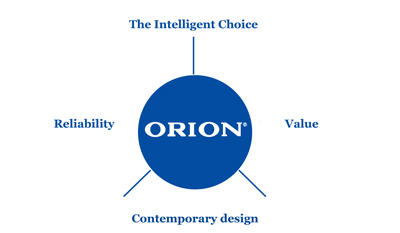 Television
Audio & Video
Automobile equipment
Home appliances
Telephones
Devices for "beauty and health"
Climate equipment
At present millions of people all over the world are owners of ORION products. The company gained such a success due to realization of main principles of corporate policy, which were defined by founders 80 years ago:

High quality + cutting-edge technologies
Low prices + wide range of products
Long service life period + general service support

Exactly due to these principles we can assert with confidence that ORION brand with dignity occupies its place in the list of world leaders in all fields of consumer electronics in XXI century and ORION products satisfy all basic requirements of demanding customer.
…SMART PEOPLE CHOOSE ORION!